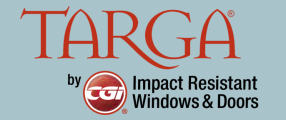 The Attractive Vinyl Window and Door
Keeping the elements out and the savings in.
TARGA is an Old English word for shield. Today, energy-efficient impact-resistant vinyl windows and doors like the line from CGI – aptly named Targa – act as shields to safeguard your home and family with strength, security and style.
As the premier manufacturer of impact windows and doors, CGI products offer superior strength, quality and beauty. Our newest addition, Targa by CGI, is no different. Targa windows and doors will enhance the aesthetics of your home while providing you windows with low maintenance, long-term durability, and environmental compatibility, not to mention money saving benefits in both you cooling bill and you insurance (in most cases).
The Targa line was designed specifically to exceed the even the demanding Florida Impact Codes, the most stringent impact standards in the U.S.
Some of the superior features included in the Targa by CGI line of windows:
1" insulated laminated glass for superior energy efficiency

Targa has triple weatherstripping at the jamb to create superlative energy efficiency air and water infiltration protection

Contoured trim for an added tough of elegance

Targa features a Lift Assist Constant Force Balance System on most sizes for prolonged durability and ease of operation (single-hung window)

Targa has recessed latches for optimal function (applicable to appropriate window types)

Targa features insulated laminated glass and LoE 366 glass coating to save you money on your cooling bill