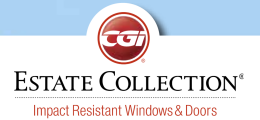 Casement Aluminum Window
Series 238
CGI's Estate Collection impact resistant aluminum casement windows have aesthetically and architecturally clean lines and incredible eye appeal. When used with our optional colonial muntins, they can give the appearance of wood but with the added advantage of quality durable aluminum construction.
CGI's impact resistant 238 series of casements, project-out / awning and fixed windows all have matching sightlines which allows them to be used seamlessly throughout your home. CGI's Estate Collection casements also come standard with an advanced single action switch activating multi-point locks, for convenience and security.
Estate Collection 238 Casement Installation Instructions
Available Finishes

Standard Glass Colors
Glass Type

Glass Coating
Standard Hardware

Stainless steel operator track

Pair of stainless steel 4 bar concealed hinges

All stainless steel multi-point lock bars

Snubber blocks
Standard Features

Super strong extruded screen frame

Extruded snap on glazing beads (in contoured Ogee or contemporary square profiles)

Stainless steel assembly screws and corner keys

Double Weatherstripping

1/2" exterior flange frame

.090" thick aluminum extrusion, 45% thicker than the standard .062" extrusion
Optional Items

Hinges with washability feature (excellent for high-rise use)

Equal leg frames

Square glazing beads

Muntin grids inside insulated glass
(Some of the optional items, particularly the muntin bars/grids, are very detail-oriented and cannot be handled appropriately through a web store. Because of this, any options you might want should be discussed with your personal window consultant. We want to make this perfect for you, and sometimes there just is no substitute for a human voice.)
NOA Certification
(Notice of Acceptance)

Maximum Water Resistance

16.5 PSF

26 1/2" x 50 5/8" Window (Temp-Air-Ann/Ann Glass)

+99.7 /-104.3 PSF

Large Missile

37" x 63" Window (Temp-Air-Ann/Ann Glass)

+60 /-60 PSF

37" x 76" Window (Temp-Air-Ann/Ann Glass)

+56.3/-56.3 PSF

Insulated Laminated Glass

26 1/2" x 50 5/8" Window (Temp-Air-Temp/Temp Glass)

+110 /-195 PSF
Energy Values
(NFRC Approved)

3/4" Insulated Laminated Clear LoE 366

U Factor

0.63

SHGC

0.21

VT

0.42