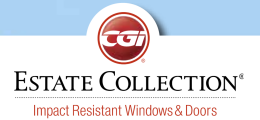 Aluminum Hurricane Impact Resistant
Sliding Glass Door
Series 560
CGI's Estate Collection Sliding Glass Door is designed and constructed to be in a superior class all its own. This best-in-class Sliding Glass Door is available in many sizes and configurations including two track (up to 4 panels, call us to get a quote on a 3 or 4-track configuration) and three track (up to 6 panel) configurations, with or without, pocketed doors and is available with individual door panels as large as 5′ x 10′.
The Estate 560 Sliding Glass Door includes standard features not found in competitive products such as the commercial grade deadbolt hook lock, cast keeper, tandem stainless steel rollers with precision bearings, a screen that is built as tough as many door panels and an easy to install frame without complex trims or covers, providing an over-all clean design.
Estate Collection 560 Sliding Glass Door Installation Instructions
Available Finishes
Standard Glass Colors
Glass Type
Glass Coating
Standard Hardware
Commercial grade maximum security hook bolt lock with all stainless steel mechanism

Custom cast stainless steel HD keeper with three stainless steel screws

Interior brass cylinder thumbturn

3/4" diameter back to back solid round pulls (10" center to center) with 1 1/2" x 12" escutcheon plate

Tandem stainless steel rollers with precision bearings in a stainless steel housing (2 rollers per operable door panel)

Heavy duty head mounted round door stop with rubber bumper

Available hardware finishes: Satin Nickel PVD, Dark Bronze, White
Standard Features
8 1/8" tall bottom rail sightline

Stainless steel fasteners throughout

Class I Clear Anodized tubular aluminum sill with internal drain chamber

Interior sill face trim (waterbar) painted to match door frame for 9 or 12 PSF water resistance

Extruded snap-on glazing beads (in contoured ogee or contemporary square profiles)
Optional Items
Small missile impact resistant option

15 and 18 PSF water resistant waterbar painted to match door frame

Extruded frame screen up to 8' tall

Heavy duty screen with extruded 1 3/4" vertical members for units above 8'

Concealed aluminum reinforcing

Small missile impact resistant option

Keyed cylinder (Satin Nickel or Dark Bronze)

2 track screen system for 3 track doors

Muntin grids inside insulated glass (GBGs)
(Some of the optional items, particularly the muntin bars, are very detail-oriented and cannot be handled appropriately through a web store. Because of this, any options you might want should be discussed with your personal window consultant. We want to make this perfect for you, and sometimes there just is no substitute for a human voice.)
NOA/Performance:

Maximum Water Resistance

9 PSF

12 PSF

15 PSF

18 PSF

4' x 8' Door Panel (Ann/Ann Glass)

+83.5 /-83.5 PSF

Large Missile:

4' x 10' Door Panel (Ann/Ann Glass)

+70 /-70 PSF

Insulated Laminated Glass

4' x 8' Door Panel (HS/HS Glass)

+120 /-167 PSF*

4' x 10' Door Panel (HS/HS Glass)

+120 /-140 PSF*

5' x 10' Door Panel (HS/HS Glass)

+90 /-90 PSF*

Forced Entry Test (AAMA 1302.5)

Passed
Energy Values
(NFRC Approved)

13/16" Insulated Laminated Clear LoE 366

U Factor

0.65

SHGC

0.2

VT

0.4